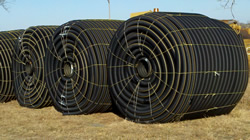 McCook County Drainage Department
331 W. Norton
Salem, SD 57058
Contact
Phone: (605) 425-2731
Fax: (605) 425-9731
Office Hours:
Jan 1st to March 31st -7:00am-4:00pm
April 1st to Dec. 31st-7:00am-4:30pm
*best to call for an appointment
Drainage Administrator:
Michael (Mic) Kreutzfeldt
Email: mchwy@triotel.net
Mic Kreutzfeldt has been appointed Drainage Administrator since April 2011.
Drainage Administrator Assistant:
Michelle Zelmer
Email: mchwy2@triotel.net
Michelle Zelmer has served as Drainage Assistant since April 2011.
McCook County Drainage Board:
McCook County Commission serves as County Drainage Board
The McCook County Drainage Department Office is located within the Highway Department Office. Responsibilities includes administrating the rules for drainage in the unincorporated areas as set forth by the McCook County Drainage Board. Duties include; permitting drainage both tiling and ditching, permitting routine maintenance of tiles and ditches, and investigation of drainage complaints and violations are handled through this office.
Drainage Ordinance: Can be found under Commission tab; Ordinances tab then Ordinance 2011-01